You are on a camping trip with a group of friends somewhere in Alaska.  After you set up camp for the evening, two of the guys in the group decide they want to hike up a rocky ridge.  When your friends don't return to camp by dinner time, you and the other campers set out in search of them.  You hear one of your missing campers shriek in pain, and you hurry toward the sound where you find the two young men at the base of a cliff.  One friend is complaining loudly about his ankle, which is badly deformed.  The other young man says he just has a few bumps and bruises, but he doesn't remember what happened; one minute they were on top the cliff, and the next thing he knew, he was at the bottom of the cliff.  He thinks he lost consciousness briefly.  What is your assessment of these two patients, what about their conditions worries you, and how will you treat them?  Do either one of them need to be evacuated?  If so, should it be an emergency evacuation or a non-emergency evacuation?  If you can only evacuate one of the patients at a time, which one would you evacuate first?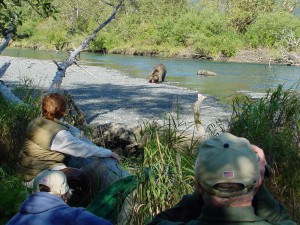 In the Wilderness First Responder recertification class Mike and I took a couple of weeks ago, this is the type of scenario we were asked to consider.  While I hope never to have to make such difficult decisions in real life, I am glad I have the best training possible to deal with accidents and illnesses in the field.  When we take guests bear viewing and fishing in the Kodiak Wilderness, we know we are responsible for their safety, and we take this duty seriously.
We sometimes have future or potential future guests worry about whether they will be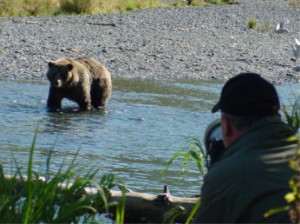 safe if they go bear viewing with us.  I applaud their concern for their safety and welcome any and all questions about the safety of our operation.  The truth is that there are no guidelines in Alaska for bear viewing guides.  You may get a guide with thirty years of experience guiding bear viewers, or you may have a bear viewing guide with almost no experience around bears.  You should ask an airlines, an outfitter, or anyone else you plan to book a bear viewing trip with, how much experience the guide has around bears, what level of wilderness medical training he or she has, and what other appropriate licenses the guide has.
In our operation, Mike is a Master Guide with 45-years of experience around bears.  He grew up at Munsey's Bear Camp and began helping his Dad in the field at an early age.  He has spent his life around bears.  Mike and I are both Coast-Guard-licensed boat captains, we are both fishing guides, and we are both wilderness first responders.  We carry radios, satellite phones, and extensive first-aid kits with us, and we encourage our guests to share their health-related and allergy concerns with us.  We don't expect our guests to have a problem in the field, but if they do, we want to be prepared to handle it.
The purpose of this blog isn't to brag about us and our preparedness.  I want to remind anyone reading this post that no matter where you are planning to vacation, you need to do your research and be certain you are booking your trip with someone who will put your safety first. Just because the guide has a fancy website does not mean he or she is qualified to lead you on an expedition into the wilderness.
Our recent Wilderness First Responder class was not the only inspiration for this post.  I was also inspired by my failure to research our recent vacation.  We just returned from a trip to the Caribbean, and while I checked out the places where we planned to stay, I did not Google the airlines upon which we were planning to travel; even though I had never before heard of Insel Air, and we had several flights booked on Insel Air.  Unfortunately, we paid for my sloppy preparations.  Insel Air was a disaster, and if I had taken five minutes to Google the airlines, I would have read the horrible reviews from other recent travelers.  It was a reminder to me check out every aspect of my vacation next time. Vacations are expensive and precious, and while you can't plan for every variable, such as the weather or unusual delays, you can minimize the likelihood of trouble by doing the research and asking questions.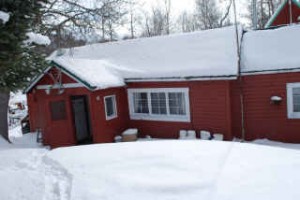 We have had a tough, cold winter here on Kodiak Island, and I can't wait for Spring!!  Spring doesn't usually happen here until mid to late May, but the days are getting longer, and each day, the sun is a little higher in the sky, so I know warmer temperatures are on the horizon.  We are looking forward to another busy summer season here, and I'm already getting excited!