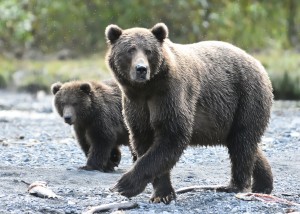 I began our 2017 season in a hospital bed and didn't know how we would make it through our summer, but I forgot about three things: the toughness of our crew to fill in for me, the magical curative qualities of nature, and our wonderful guests, always there to lend me a helping hand. Once I returned home, I managed to go out on our boat, the Mary Beth, with our guests nearly every day. I appreciated each moment this summer offered and reflected on how lucky I am to have a job guiding wildlife viewers and sport fishermen on Kodiak Island. The best part of this job is sharing our home here in the wilderness with our amazing guests from around the world.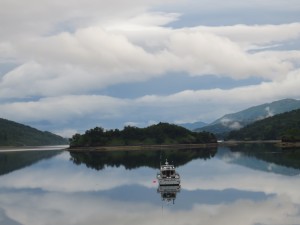 We and our guests were excited to have Mary Schwarzhans back for her fifth year, performing magical spells in the kitchen and keeping the camp running smoothly. Our camp helper this year was Emily France from Willow, Alaska. 
On July 12th, Craig and Pam Smith from Australia and Zach and Eli Culbertson from New York arrived as our first group of the summer season. I unfortunately never met this group, but Mike reported their adventures to me. They were greeted their first morning by our resident doe and two fawns, and they watched seals and sea otters and saw a red fox, eagles and a bear. Zach and Eli had to leave after only two days, but Craig and Pam watched a sow with two cubs from a distance and got closer to a single bear on the beach. On their last morning, they cruised toward the mouth of the bay where six huge fin whales surfaced near the boat.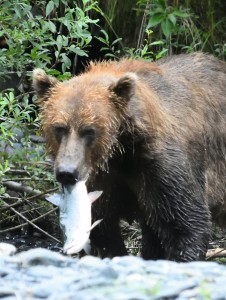 John and Jane Birman, Dave and Sarah Jane Vaux, and Garry and Pauline Hall, all from Australia, arrived  July 16th. Their first afternoon, they saw sea otters and several fin whales; two of which, surfaced beside the boat. I arrived home that evening to a wonderful welcome from Mike, Mary, Emily, and this fun-loving group of Australians. Garry caught a 20-lb. halibut (just in case there is anyone left who hasn't seen the photo), and John, Pauline, Dave, and Garry had a great time salmon fishing while Jane and Sarah Jane relaxed. This group watched a sow with three, large two-year-old cubs fish, growl, and fight over salmon.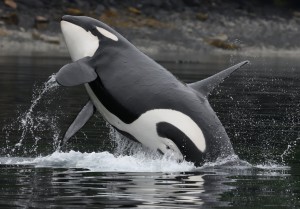 On July 20th, we greeted Frank and Tracey De Bacco from Pennsylvania. Frank and Tracey enjoyed a sunny day salmon fishing in Brown's Lagoon, and kept seven salmon and released six. One day, Frank, Tracey, and Mike watched a sow with two cubs, a sow with one cub, and a single bear, and on another day of fishing, Frank caught a 20 pound halibut and his limit of salmon. On their last morning, the De Baccos saw 12 orcas soon after leaving our mooring. One whale breached several times, and Mike snapped a great photo of her.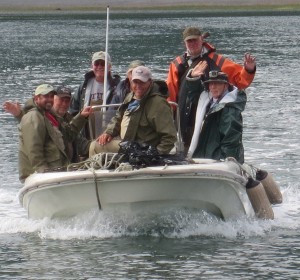 Later in the afternoon on July 25th, the orcas were still frolicking near our lodge to greet the plane carrying Andy Vena, Albert Strydesky, John Mayer, Frank Bialas, Silvio Squieri, and Rob Varvar. Andy, Albert, and John are old friends who have visited us many times, and Rob joined us several years ago for a deer hunt, but this was the first of hopefully many visits for Frank and Sil. After lunch, Mike took the guys out for a closer glimpse of the orcas, and then they cruised north where they saw sea otters and fin whales. This group enjoyed a fun day of salmon fishing in Brown's Lagoon when they kept 20 salmon and released 22. On another day, they kept six halibut and released ten, and the following day, Al and Rob became the first inductees of the year into our halibut club (40 lbs. or larger).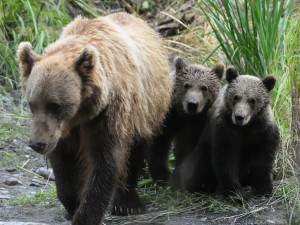 On August 3rd, Christie Lahusen and her boyfriend, Robert Stankovic, both from Oregon, Christie's father, Larry, from Canada, and her brother, Derek, from Utah arrived for a 3-day stay. One day, this group saw a sow with three newborn cubs, a sow with two newborn cubs, a sow with a yearling, a sow with three 2-year old cubs, and a single bear, and on another day, they watched a large, old sow catch a salmon in front of them on a small stream. On their last morning, they saw foxes, eagles, sea otters, and two fin whales.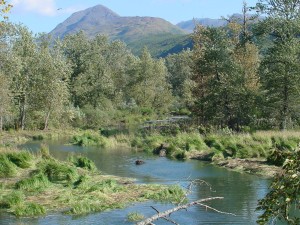 On August 6th, we were excited to welcome back Bill, Judy, Michael, Brian, and Tess Micheli from Illinois. Tess wasted no time proving her fishing skills were still sharp. She was reeling in a 40-lb. halibut when her Uncle Mike hooked a 60 pounder. Awhile later, Bill joined our halibut club by landing a 52-lb. halibut. This group battled wind and rain one day to walk up a small river and watch a sow with three cubs demonstrate her fishing prowess. She fished near them all afternoon. They also saw two single bears, a large male, and a sow with a single cub.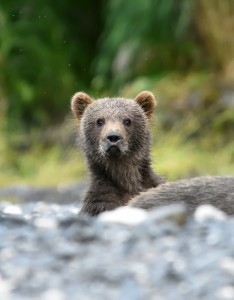 On August 11th, we greeted Mike and Janna Turpin from Florida and Skip and Susan Parker from Nevada. On their first day, this group watched a bear fish and tend to her three young cubs. On August 13th, they were joined by Hannah Hillebrand and her boyfriend, Logan, both from Oregon. This group watched two, young, sub-adult bears fish and play on a log, and on the next day, they saw a sow with two cubs chase away a single bear and then fish in front of them. Skip and Susan enjoyed the excitement of halibut fishing in shallow water, and Susan joined our halibut club with a 50 pounder.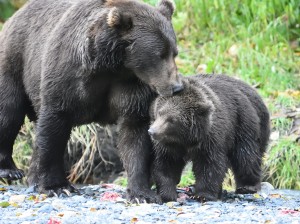 On August 16th, we were thrilled to welcome back Andy Erickson from Rhode Island and his grandson, Drew McDonnel, from Seattle. Joining Andy and Drew were Bob and Tami Bancroft from Indiana, and Andrea Schmidt and Bernhard Diemer, both from Austria. This group enjoyed four great days of bear viewing. They sat on the bank of a small stream and watched a sow with a yearling cub fish in front of them. Mom caught several fish and ignored the people, while the cub watched the humans and growled. On another day, a sow with two newborn cubs fished near them. On their last day, this group watched a sow catch and eat fish, while her two cubs wrestled, boxed, and climbed a tree above her.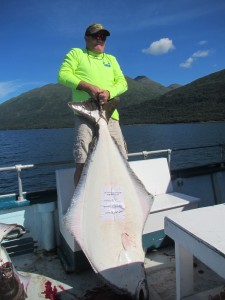 On August 21st, we were happy to welcome back Bud Coughlin, Lisa Bill, and Jim Bill, and we were pleased to meet first-time members of the group, Bill Mullin, and Yocasta and Joanna Hudson, all from New Jersey and Pennsylvania. This group enjoyed great halibut fishing. On their first day, Bill, Joanna, Jim, and Bud joined our halibut club, and they caught their limit of halibut by 2:00pm. Bill caught a 150 pounder, our largest halibut of the year, and Yocasta caught a 70-lb. halibut. This group also had good pink salmon fishing, each person catching his or her limit two days in a row. In addition to fishing, everyone enjoyed excellent whale watching , and one afternoon, they sat on a riverbank and laughed as they watched a young bear play with dead salmon.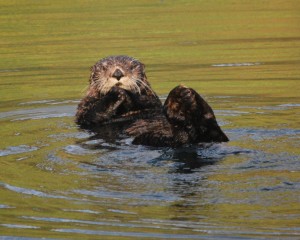 On August 26th we greeted Dan Robertson from Nevada, and Gene Fanucchi, Gordy Sexton, Howard Hancock, Mike Saner, and John Mendoza, all from California. These guys have had a standing reservation with us for a decade, and we appreciate them. Over the years, they have become friends, and we always look forward to seeing them. Last year, they enjoyed good weather, but this year they were here for a storm that affected their fishing. Nevertheless, they caught their limit of halibut on their first day of fishing, and Howard and John both joined our halibut club. Once the weather allowed us to get to Greenbanks, the guys caught several salmon, including seven silver salmon.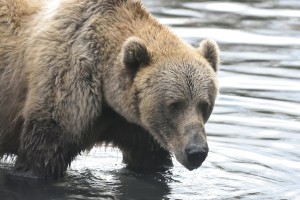 On September 5th, we were excited to welcome back Tony and Karin Ross from Pennsylvania for a 12-day stay. Joining Tony and Karin, were Bill, Terrie, and Donny Stone from Canada. This group spent two spectacular days bear viewing on a salmon river. One day, they photographed a tolerant, blonde sow and her two, tiny cubs. After fishing, she stretched out to nurse her cubs, and when one of the cubs bit her, she growled and hit him. On another day, this group photographed a huge, old, male bear as he calmly walked down a stream. Donny proved to be a master salmon fisherman when he landed four silvers, and Karin joined our halibut club with a 60 pounder.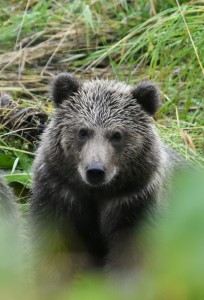 On Sertember 10th, Jaromir and Jana Jiroudek and Jiri and Jamilla Kalina, all from the Czech Republic joined Tony and Karin. Instead of sitting idly, waiting for the plane carrying our new guests to arrive, Tony caught a 74-lb. halibut! On a gorgeous autumn day, this group watched 25 bears, including several sets of sows and cubs On their second day, they were thrilled to see a huge, old bear. The weather turned ugly on day three, but these hearty souls braved wind and rain to hike two hours to watch bears. On their final full day, they opted for a marine-mammal tour, and we saw sea lions, seals, sea otters, porpoises, and fin and humpback whales.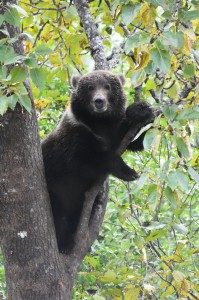 Tony and Karin spent the final two days of our season with us, and they wasted no time topping off their fish boxes by catching six silver salmon. Their final day was sunny and beautiful as they sat on a river bank and watched nineteen bears, including two small cubs that played on a log and tried to grab the salmon swimming below them.
It is difficult to explain our bear-viewing experience to people when they first inquire about our trips. Guests who have been bear viewing elsewhere tell us they much prefer the experience we offer because here, they see bears that have not been habituated to humans. One guest described it as, "Stepping into the bears' parlor and seeing how they live." To get to these "wild bears," though, requires effort because If they were easy to access, they would be surrounded by humans. On our trips, you must take a 1 ½-hour ride in our big boat, followed by a ½-hour boat ride in our whaler through shallow, tidal waters. Then, you must hike for 2-hours over a rocky beach and narrow, uneven bear trails. It is a wonderful but rugged experience, and it is not for everyone.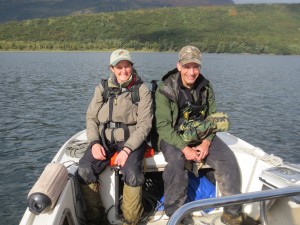 Thanks to our wonderful guests this summer, and a special thanks to all of you for putting up with my physical limitations. I plan to be 100% by next summer!  Thank you, Mary, for being wonderful, creative, and always funny, and thanks, Emily, for doing a great job. I'm already looking forward to next summer!
If you would like to read my weekly blog on Kodiak wildlife and life in the wilderness on Kodiak Island, you can find it at http://robinbarefield.com/blog.  I post every Sunday and would love your input.