Oh wow!  Did you see that?  Whoaa!!! Ahhh, aren't they cute? He's getting kinda close,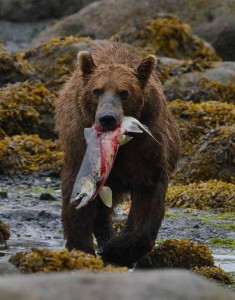 isn't he?  I need help reeling in this fish!  Will you come home with us and cook for us, Mary?  This is so amazingly beautiful!
These are some of the sounds of a summer at Munsey's Bear Camp.  From a breaching humpback to huge fin whales circling our boat while watching us, to adorable sea otters floating on their backs, to bears catching salmon while their cubs wrestle and play beside them, to great halibut and salmon fishing, to Mary's gourmet meals; our 2015 summer season was excellent in every way.
We were thrilled to have Mary Schwarzhans cooking for us again this summer.  Her wonderful meals defy description, and her sense of humor kept me smiling all summer.  Mary's sister, Emma, signed on with us as well this summer, and we thought of the two of them as our dream team.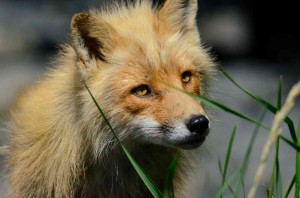 Our season began July 15th, when we greeted Roni Jarnigan from Indiana and Paul and Shanen Eatinger and their 14-year old son, Kinnen, all from Idaho.  On the first afternoon, we saw a humpback whale soon after leaving our mooring and several fin whales further out the bay.  One day, a sow with two yearling cubs fished in front of this group, and while mama caught salmon, the cubs fought over her catch.    A curious fox ran up to this group and sat by Paul's feet, while everyone snapped photos of him. On another day, Kinnen, Paul, and Roni all caught their limits of halibut and salmon, and they released 26 salmon, and on their last day, Shanen caught a 22-lb. halibut, Kinnen landed a 30 pounder, and Roni joined our halibut club with a 40 pounder.
On July 20th, we were happy to welcome back Bud Coughlin, Lisa Bill, and Lisa's brother,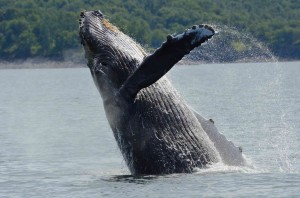 Jim Bill, all from New Jersey, and Gene and Diane Fantini from Delaware.  These folks were here to fish, and they wasted no time.  They caught four halibut the first day, and Gene caught two silver salmon.  That is the earliest we've ever caught silvers, and it was the beginning of a fantastic silver-salmon year.  In Brown's Lagoon, this group caught 25 pink salmon and released 14.  The following day, Bud and Jim both joined our halibut club, when Bud caught a 40 pounder, and Jim landed a 78-lb. halibut.  Awhile later, we saw a humpback whale leap out of the water several times.  We cruised closer, and the whale continued to breach and slap the water with his fins and tail.  It was breath-taking to watch!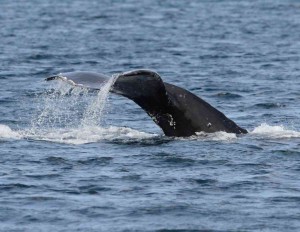 On July 25th, we were thrilled to welcome back Tom Bradley and meet his fishing buddies: Jim Clay, Mike Pearson, and Bob Jibben, all from Missouri.  On their first day, a humpback circled our boat, and we could clearly see him under water.  While Bob, Jim, and Mike enjoyed great pink salmon fishing in Brown's Lagoon, Tom stayed on board the Mary Beth to halibut fish, but when he reeled up his lure and saw several silver salmon chasing it, he quickly changed tactics and soon had his limit of five silvers. We returned the next day, and all four guys had their limits of silver salmon within two hours.  They then began halibut fishing and caught their halibut limits in another hour.  Tom and Jim both joined our halibut club with 45 pounders.
We greeted Paul Borg and Katherine Lee from Australia and John Grobelny and Toni Mott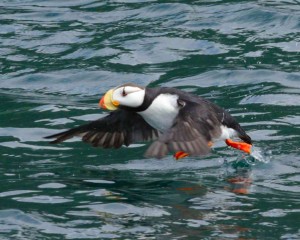 from Florida on July 30th.  This group enjoyed gorgeous, sunny weather their first day, and they saw deer, seals, sea otters, foxes, and a humpback whale that lifted its tail in front of us, sunlight glinting off its wet surface.  Later that day, they watched a bear fish in front of them.  On August 1st, this group was joined by Shuki Horesh and Chana Moran from Israel.  They watched a sow with two yearlings fish 60 ft. from them, and both she and the cubs stood on their hind legs several times to check out the humans.  On their last day, a very large bear walked out of the woods 50 ft. from them.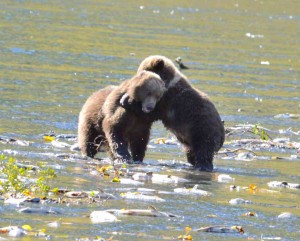 On August 6th, we were happy to welcome back Ed Matusik from Pennsylvania, who was with us for a 10-day stay, and we were excited to greet George and Jacque Havice from Kansas.  Jacque and I were high-school buddies.  Also arriving were Dave and Barb Korzendorfer from Connecticut.  This group watched a bear fish on a small creek and saw a sow with two cubs on the beach.  One day, George, Dave, and Ed all caught their limits of silver salmon, and Dave joined our halibut club with a 75 pounder.  On their last day, I enjoyed a fun afternoon fishing with Jacque, George, and Ed, while Dave, Barb, and Mike watched a sow with two yearlings and a sow with three cubs of the year.
On August 11th, Ed was joined by Stephen and Roberta Madeyski from New Mexico and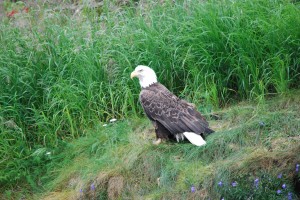 Doug and Stephen Freeland from California.  This group experienced a good day of fishing, and the Freelands both caught their limits of silvers.  Another day, a bear caught a salmon and ate it near them, and on the way home, a humpback whale breached in front of us and then slapped the water several times with its tail.  On their last day, this group watched a sow fish while her three young cubs played, and then a single bear fished near them, walked calmly past them, stretched out in the water, and lazily scratched herself.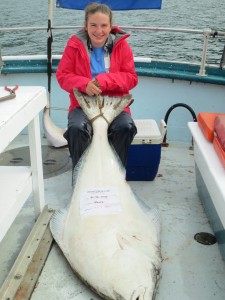 On August 21st, we greeted Bill and Judy Micheli, their son Brian and his daughter Tess, and their other son Mike and his fiancé Barbara Hancock, all from Illinois.  On their first day, Judy proved her fishing skills by landing a 32-lb. halibut.  The next time we fished, Judy again started things off with a nice halibut, but before the day was over, Bill caught a 25 pounder, Mike joined our halibut club with a 50 pounder, and 12-year old Tess joined our Gold Halibut Club by landing a 127 pounder, the largest halibut of the year!  One day, a large bull killer whale swam past us, and on another day, the Michelis and Mike sat under a birch tree and watched two young bears wrestle, box, and catch salmon.
On August 26th, we were happy to welcome back our fishing buddies:  Dan Robertson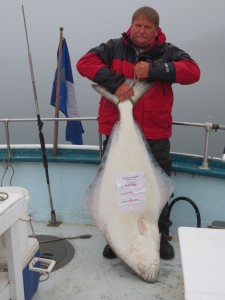 from Nevada and Gene Fanucchi, Gordon Sexton, Michael Saner, Howard Hancock, and Bob Robertson, all from California.  Dan was with us for eight days, while the other guys were here for five.  Last year was Gene's year, but Mike took top honors this year with a 103 lb. halibut, earning him a plaque and entry into our gold club.  On a day of silver-salmon fishing, Dan caught his limit of five, and the other guys each caught several.  A late-summer storm slowed us down a bit, but these guys still left with six full (50 lb.) fish boxes.
Our next group was delayed a day in Kodiak due to bad weather, and since they only had a three-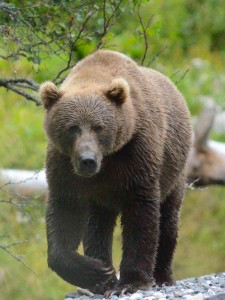 day trip scheduled, the delay put a dent in their plans.  On September 1st, Dan was joined by his son-in-law Robert Cornell and his 13-year-old grandson, Ashton, both from California.  We were also thrilled to welcome back John Mendoza, and John brought his brother, Sam, and their friend, Ken Cadena, also all from California.  On their first afternoon, this group saw four bears and caught four halibut.  On the next day, Robert, Ashton, and Mike watched a sow and cub and two single bears on a small creek.  One bear walked to within 30 ft. of them before veering into the brush.
On September 3rd, we were excited to welcome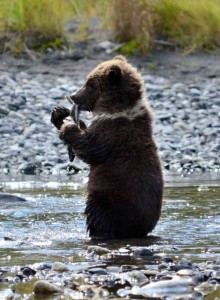 back Tony and Karin Ross from Pennsylvania, who were with us for a 10-day stay, and Gene and Denise Brown from Washington.  They were joined by first-time guests Nathan and Virginia McCreery from New Mexico. On their first afternoon, we watched approximately 25 fin and humpback whales surface and blow, and this incredible whale watching continued throughout their stay. This group walked through the grass near a side stream and took beautiful photos of a sow with two yearling cubs.  Her dark brown, fall coat produced a gorgeous contrast to the golden sedges.  On their last day, they watched a young bear climb a tree, a sow with two older cubs, and a sow with three young cubs.  One of the little cubs caught a salmon and then stood on his hind legs, gripping the fish in his teeth.
On August 8th, Tony and Karin were joined by returning guests and friends, Andy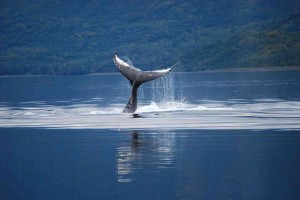 Erickson from Rhode Island, Andy's grandson, Martin Ulrich, from Pennsylvania, and Paul Kludt from Florida.  On their first day, this group enjoyed the thrill of catching large silver salmon on light tackle on a small stream, and on another day, Martin caught his limit of silvers in salt water.  This group hiked up a river and watched a bear catch and eat salmon near them, and later, they saw a sow with two large cubs.  On their last day, Tony, Karin, and Mike watched a sow with three cubs of the year, a sow with a yearling cub, and a sow with three large 2-year olds, while Andy, Martin, and Paul fished on the Mary Beth.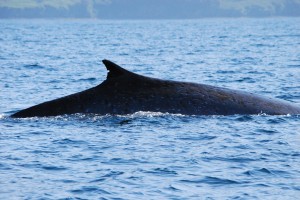 On September 13th, we greeted Richard and Sarah Kennedy from England and were happy to welcome back Terry and Cynthia Douglas from Alaska.  On their first day, this group saw 22 bears scattered around the bay, fishing on the many small streams that were plugged with salmon this summer.  One day, they saw a sow with three yearlings and a sow with three cubs of the year, and on another day, they watched a sow with three small cubs fish and play.  This group had several close whale encounters, including a huge fin whale that surfaced near the Mary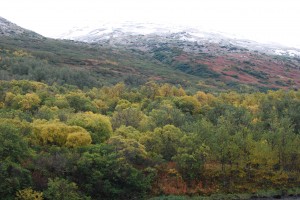 Beth and then swam just below the surface past the boat.  On our last morning, we were greeted with a blanket of snow on the mountains, signaling an end to our season.
Thanks to all our wonderful guests this summer.  Amook Pass on Kodiak Island is well off the beaten path.  We appreciate that you took the time and effort to find us and spend part of your summer with us, and we hope you will all return!  Also, thank you Mary and Emma for being part of our team.  I could never express how much we enjoy and appreciate you!
By the way, there was one other comment in the form of a question heard at Munsey's Bear Camp this summer when one of our guests asked his girlfriend on our bench overlooking beautiful Amook Pass, "Will you marry me?"  She said, "Yes!"
If you would like updates about Munsey's Bear Camp, visit our website: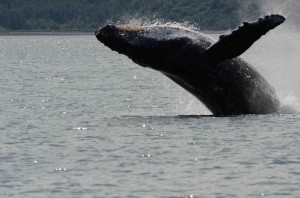 http://www.munseysbearcamp.com and click on our newsletter and blog for current postings.  You can also find detailed information about the animals of Kodiak Island on our website.  For more information about animals, the history of Munsey's Bear Camp, living in the Alaskan wilderness, as well as summaries of my two novels, please visit:  http://www.robinbarefield.com.  If you leave a comment, my weekly postings will be delivered to your inbox, and if you enjoy mysteries, sign up for my monthly Mystery Newsletter.