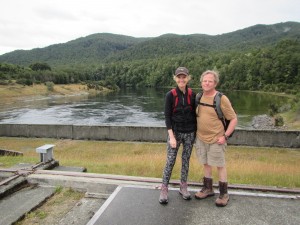 I'm a bit late with my mid-winter newsletter this year.  Winter hasn't lost its grip on us here, but according to the calendar, the first day of spring was nearly two weeks ago.
Those of you who read my personal blog posts at www.robinbarefield.com/blog know that Mike and I spent a month in New Zealand this winter.  We had a wonderful time and loved the country and the people.  The scenery was spectacular, and we saw everything from rolling hills and serene pastures, to glaciers, to geysers and hot springs, to miles of unspoiled beaches, to glacial lakes with colors so vivid they are impossible to describe with mere words.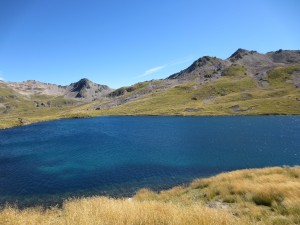 We spent two weeks of our time in New Zealand on a hiking trip with Active Adventures New Zealand.  As I've mentioned before, we enjoy booking trips in other parts of the world that are similar to what we offer in Alaska.  I think this means we love our jobs, but it is nice for a change not to be the ones in charge.  Following another guide is relaxing and a great learning experience.  I never know what I will learn, but I always learn something, and the knowledge I gained this year surprised me because it related more to the booking process than to the guided trip itself.  It also had more to do with me being a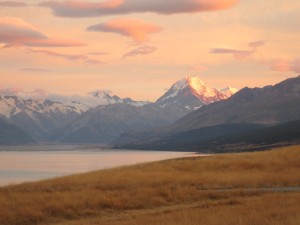 tourist than a guide.
First of all, let me say that the hiking trip was wonderful, and Active Adventures does a great job.  We ate very well, stayed in beautiful places that we would never have found on our own, and took hikes in stunning surroundings on the South Island.  Our guides, Gary and Holly, were first-rate and worked non-stop guiding our hikes, chauffeuring us from one place to the next, cooking our meals, and entertaining us with Maori legends. 
This hike was not an easy trip, though, and while I read and reread the brochure, I never
understood it would be as difficult as it was.  I was able to do all the hikes, the mountain biking, and the kayaking, but I wasn't always able to do a particular activity in the time allotted.  Most of the hikes were uphill, and we climbed to 3000 feet once and to 4500 feet on another occasion.  Those were tough hikes, and there wasn't enough time to take many breaks.  To be honest, at times, this was more effort than I wanted to expend on my vacation.  Perhaps if I'd asked more questions, I would have chosen one of their easier hiking tours, but from reading their brochure, I thought I knew what to expect.
Is their brochure bad?  No, it is a very good brochure, and their website has the best, most-detailed booking form I've ever seen.  I think it is difficult to visualize habitat, terrain, and weather conditions in a place you've never been.  We sometimes run into the same problem when booking guests at our lodge.  We think we do a good job describing the length and difficulty of our hikes, the temperature, and possible weather conditions during the summer on Kodiak, and what you can expect to do each day while you are staying with us.  Still, guests sometimes arrive without rain gear or a warm jacket, and worst of all, a few guests arrive and discover they are not in good enough physical shape to meet the demands of our trips.  It is sometimes a long hike to see bears, and it's disappointing for a guest if she can't do the hike.
As clients, it is our responsibility to determine whether or not we are up to the physical
demands of the adventure trip we are considering.  It is not easy, though, to read about a trip and understand the amount of physical ability required.  We get caught up reading about the beautiful sights or the big bears we will see and skim over the part about how difficult the hike is to see that scenery or watch those bears.
I loved my hike in New Zealand.  It was more work than I expected, but I enjoyed it.  I don't mind pushing myself if the payoff is worth it.  Most of us don't mind aching muscles or even a few cuts and bruises if the adventure is amazing.  What I would like to stress, though, is if you have a serious medical problem, physical limitations, or if you are overweight or in poor shape, be honest with yourself, and make certain before you book an adventure trip that you aren't signing up for something that could put your health or safety in danger.  Describe your limitations with the booking agent and perhaps even ask to speak with a guide.  Most guides will be very honest with you.  None of us wants one of our clients to get hurt or be sick in the field.  When a perspective guest tells us he has a serious illness or can't walk very far, we tell him that our trips probably are not a good idea for him, and we suggest other options that might work better.  If he can't hike, then perhaps he should consider a bear flight-seeing trip with a floatplane company.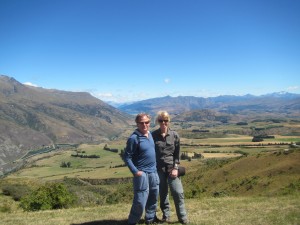 I think as travelers, it is our job to assess our physical condition and then ask as many questions as possible to make certain we are choosing a trip we can do.  I'm sure there will still be plenty of surprises awaiting us, but hopefully, they will be good surprises.
We are booked full this summer, and we are excited that in July, Holly, one of our guides in New Zealand, is coming to visit us for a few days.  We are also thrilled to announce that Mary will be dazzling us with her meals again this summer.  I know our returning guests will smile when they read this news!