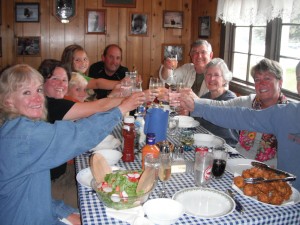 We're over mid-way through our 2013 summer season.  In July we had the longest stretch of sunny weather we can remember.  Some days were actually hot, and we just smiled when guests questioned why we had insisted they bring rain gear with them.
As for bear and whale viewing, this July was slower than normal.  After an extraordinary whale summer last year, we saw very few whales in the bay in July.  Reports of amazing whale displays on the other side of the island indicates they were finding more to eat in that area this summer.  While we did see bears with each group in July, we did not see the number of bears we usually see at the head of Uyak Bay.  We suspect the reason for this was directly related to the warm, sunny weather which produced an early, abundant crop of berries.  When bears are in the berry thickets instead of on the beach catching salmon, they are difficult to spot.  Of course those berries, rich in natural sugars, are just what bears need to build fat reserves for the winter, and the bears we are seeing now look very healthy.  During the last two weeks, bears have started to move onto the salmon streams, and bear viewing has been excellent.  The salmon run has also been good with more salmon arriving every day, so I'm sure the bear numbers on the streams will continue to increase for the remainder of our season.
On the fish front, I am happy to report that halibut fishing has been better this summer than it has been for the previous two years.  We haven't tried for silvers yet, but we are excited to hear that they are beginning to arrive in the bay.
Our guests this summer have been wonderful.  A recent guest said to me, "I bet you have some great stories about difficult clients." .
"Not really," I gave him a sideways look, "Not until now.  Should I be on my guard?"
We are frequently asked to share stories about "nightmare" guests and the trouble they caused, but I am happy to say that we don't have many stories like that.  Certainly over the course of thirty years we've had some memorable guests and a few that were memorable in a bad way, but that's a rare occurrence, and I've often wondered why we are so lucky.  I've traveled other places and met my share of cranky, demanding, and just unhappy tourists, but that's not a problem we face in our business.
I like to think that we only get top-notch adventure travelers at our lodge.  You don't accidentally stumble into a vacation at a bear-viewing lodge in the middle of the Kodiak National Wildlife Refuge.  By the time a traveler steps off the float plane onto our dock, she has carefully done her research, knows what she is getting herself into, and has probably already taken several other adventure-type vacations around the world.  She knows what weather conditions to expect and has packed accordingly.  She is ready for her adventure, and we will do our best to provide her with one.
I often brag in our end-of-the-summer newsletter that every year nearly 50% of our guests are returnees.  These are folks who over the years have become more than just clients; they are our friends, and we stay in touch with them during the year and follow their lives.
We have several friends returning this summer, but the main purpose of this entry is to tell you about Art and Louise Williams, who in July brought their family to Munsey's Bear Camp to celebrate their 50th wedding anniversary.  Their daughter, Heather, and her boyfriend, Thomas; their son, Doug; his wife, Beth; and Doug and Beth's kids, Addie (age 9) and Finn (age 7) all made the trip to Munsey's Bear Camp for the party.  We were thrilled and honored that they chose to celebrate such a milestone event at our lodge.  Art and Louise have visited Munsey's Bear Camp on four previous occasions, and Heather, Doug, and Beth have accompanied them at different times, but this was an opportunity to introduce the two youngest members of the family to the bears and other wildlife of Kodiak Island.  As the family sat around the dinner table and laughed, teased each other, and told stories, Mike and I truly felt we were a part of that special family, and we were reminded once again that we have the best jobs on the planet.  Thank you Art and Louise for including us in your celebration!
We've already had a few other returnees, and we look forward to more in late August and September.  As a matter of fact, from August 25th until September 15th, nearly all of our guests are returnees.
While returning guests are priceless, first-time guests are also fun, and we have enjoyed many new guests this summer.  It is always a thrill to view our beautiful world through the eyes of someone who is seeing it for the first time.  I think our new, brilliant, young cook, Mary, summed it up best this summer when one of the first planes of the season landed, and she said, "I'm so excited for these people starting out on their adventure!"
We do our best to remember that every guest is here for a wonderful adventure, and we do everything we can to make that adventure as special and exciting as they dreamed it would be.
Robin