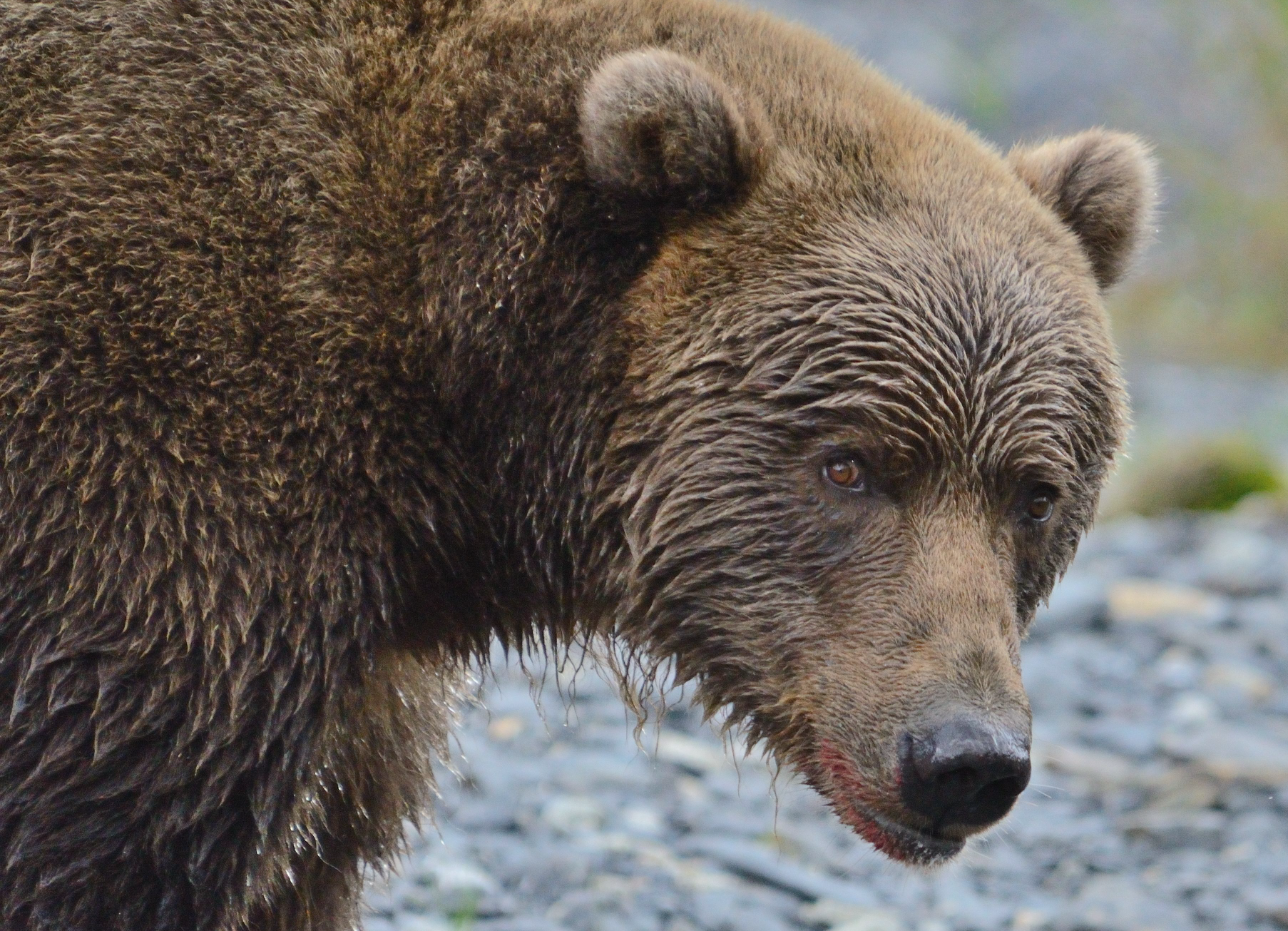 A young bear chases a salmon and pounces on it thirty feet from where you sit.  You force yourself to hold your camera steady and continue snapping photos as she turns toward you and lifts her prize in the air.  A few minutes later, two more young bears race into view, and you laugh as they stand on their hind legs and wrestle with each other.  The three bears quickly move upstream as a larger, older bear steps out of the woods and begins chasing a salmon.  Awhile later, the older bear sniffs the air, and he too walks upriver.  Then another bear steps onto the bank across from you, and you take the camera away from your eye as you try to gain perspective.  The bears you saw earlier were all large, but this bear appears to be twice as big as the others.  He looks straight at you, grunts twice, and then stomps his feet on the bank.  It's obvious he's not pleased to see humans on his river.  You try to snap a photo of the big guy, but there's no keeping your camera steady at this point.  You look at your guide who is now standing.  He speaks calmly but firmly to the bear.  The bear regards him for a moment and then wanders downstream.  Later the guide tells you that you have had the rare treat of seeing an extremely large, 1000-lb. Kodiak bear, and you've had the thrill of visiting him in his natural habitat.  Welcome to the Kodiak National Wildlife Refuge, and welcome to Munsey's Bear Camp!
This summer was both beautiful and frustrating.  We enjoyed sunshine and record-high temperatures during July, and because of all the sun and heat, Kodiak had an early, heavy berry crop in July, and the bears seemed to be more interested in gorging themselves on berries than chasing salmon.  This, of course, was great for the bears but tough for bear viewing, since most bears were in the berry thickets where they are nearly impossible to see, instead of along the shore and on the salmon streams where we usually watch them in July.  By August, our world righted itself, and while the weather wasn't quite as nice, the bears moved onto the salmon streams, and bear viewing was excellent as usual.
Our summer season began July 9th.  Our cook this summer was a fun, innovative, young woman named Mary Schwarzhans, who amazed and impressed our guests with her wonderful meals.
Our first guests were Matt and Sandy Looney, Terry and Kris Vaughn, and Mike and Melanie Austin, all from Tennessee.  This group enjoyed the rare experience one afternoon of seeing a mountain goat standing on the shore.  On another day, a curious fox walked up to them and watched them change their boots on the beach, and awhile later, they photographed a bear standing on a rock looking for fish.  On their last day, we cruised toward the mouth of the bay on a beautiful morning, where we saw many sea otters, including one that was so busy eating a large octopus, he wasn't the least disturbed by our presence as we snapped photos.
On July 15th, we greeted our good friend Vickie Coffman from Kansas, Jack Sowers and his son Chris from Texas and Jack's other son, John, from Oklahoma.  When I think of this group, I remember sunny, warm weather and smiling faces.  On their first day, they watched a sow with two cubs, and on another day, they  photographed a bear in a thicket as he methodically picked berries from a bush.  Everyone in this group caught salmon and halibut, but Jack landed the largest, a 60-lb. halibut that gained him entry into our 40- pounds-and-over halibut club.  On their last day with us, Jack, John, and Chris followed Mike up a river where they watched a young bear chase, catch, and eat salmon in front of them.
Dave and Nancy Hicks from Ohio, John Hoffman from Pennsylvania, and Marc Wallace from New York arrived on July 20th.  This group enjoyed a beautiful, sunny afternoon of salmon fishing in Brown's Lagoon, where an array of wild flowers blanketed the hills and cliffs.  Everyone in this group caught halibut, and Marc enjoyed the thrill of fighting a halibut in shallow water.  One day a bear climbed a cliff near where they were sitting, got within 40 ft. of them, and lifted his head to look at them before wandering away.  On another day, a bear walked to within 20 ft. of them before slowly heading into the woods.
On July 25th, we were thrilled to welcome back the Williams family, consisting of Art and Louise from Pennsylvania, their daughter Heather and her friend Thomas Hopper, both from Virginia, and Art and Louise's son Doug, his wife Beth, and their children Addie (age 9) and Finn (age 7) from North Carolina.  This was Art and Louise's 50th wedding anniversary trip with their family, and we were proud they chose to spend it with us.  This group watched a bear sprawl lazily in the water and photographed another bear walking the beach.  Everyone in the family enjoyed salmon and halibut fishing, and Addie and Finn cheered while Aunt Heather reeled in a 52-lb. halibut.
While the rest of the family departed on July 30th, Art and Louise stayed for another five days.  We were also happy to welcome back Eric, Carolyn, and Chris Gustafson from New Mexico.  This group was slammed by a summer storm that greatly altered our plans.  It was too windy to get to the bear-viewing area for two days, and when we finally did get there, the wind increased to 50 mph by mid-afternoon, and we were forced to leave.  Through it all, everyone managed to keep smiling.  Eric and Chris enjoyed an afternoon of salmon fishing, when they kept three salmon and released twelve, and meanwhile, Art landed two 25-lb. halibut, one right after the other.  On their last morning, we cruised north and watched two fin whales that surfaced near us.
On August 9th, we were happy to welcome back Terry and Cynthia Douglas from Virginia, and we greeted Krista McFall and James Walker from Colorado and Krista's sister, Jennifer Barron, and her friend, Vince Burgess, both from San Diego.  One day this group watched two young bears catch fish and wrestle.  A young sow charged out of the brush and caught a salmon beside them, and awhile later, a huge boar came out across the river from them, woofed, and stomped his feet twice before leaving.  On another day, Terry, Cynthia, and Mike watched bears on a side stream while Krista, James, Jenny, and Vince enjoyed halibut fishing on the Mary Beth.  On their last day, they once again saw the huge boar, another large boar, a sow with two newborn cubs, and several single bears.
On August 14th, we greeted Mario and Karin Noti from Switzerland and John and Ana Price and Chuck and Charleen Vershaw, all from California.  On their first day, this group photographed a large boar and a young sow that fished in front of them.  Then a small, blonde bear put on a show when he held a salmon in his mouth and snapped it back and forth.  On another walk upriver, they saw a sow with two 2-year old cubs, a sow with a yearling, and several single bears.  Everyone enjoyed a good day of halibut fishing (John and Ana as official photographers) on a beautiful day at the mouth of Uyak Bay, and Mario discovered a new skill when he caught six halibut, including a 35 pounder.
Clint and Rickie Swink, their daughter Sage, her husband Ira Riegel, their other daughter Tana, her husband Chad Clocgh, and Tana and Chad's baby, Caden, all from Colorado, arrived on August 19th.  On their first two days, several bears fished in front of them.  One young bear fished only 20 ft. from them, but when he looked as if he was going to climb the bank and sit on Sage's lap, Mike told him he was getting too close.  He seemed to take the reprimand to heart, because he walked 50 ft. away, dug a hole in the dirt, and plopped down for a nap.  On their final day with us, Clint, Rickie, Ira, and Mike watched and photographed six bears that caught salmon near them, while on the Mary Beth, Chad, Tana, and Sage all caught halibut.  While fishing at the mouth of the bay, this group enjoyed watching a pod of Orcas that cruised past our boat.
On August 24th, we were thrilled to welcome back Dan Robertson from Nevada and Gene Fanucchi, John Mendoza, Michael Saner, Howard Hancock, and Gordy Sexton, all from California.  This group of friends has visited our lodge the last several years to catch fish, relax, and harass each other (not necessarily in that order).  I hope they were able to relax, and I'm certain they fulfilled their other two goals.  They each left with a 50-lb. box of fish, and by the last day, we were releasing halibut, because they had more than they could take home with them.  All the guys caught halibut and salmon, but it was Mike Saner's year.  He not only caught the most halibut, but he also caught the largest two, joined our halibut club, and saw our halibut flag raised twice for a 45-lb. halibut and a 75 pounder.
On September 2nd, we greeted Billy and Katherine Donegan from England and Joachim and Beate Gmehling and their daughters, Sonja and Hanna, all from Germany.  This group was here for a 3-day trip.    During their two days of bear viewing, they saw three sets of sows and cubs, including a sow with three newborn cubs.  A drowsy bear yawned and stretched when they walked past her and then wandered into the river and caught and ate salmon in front of them.  Two other young bears took a nap near them, resting their heads on a log, and when they awoke, they began wrestling and playing only 60 ft. away from this group.
On September 5th, we were very happy to welcome back Jerry Burblis from Anchorage, Jo-Anne Antalik from Florida, Ed Matusik from Pennsylvania, and David and Pam Slaughter from Colorado.  This group enjoyed a great afternoon of silver salmon fishing in Brown's Lagoon.  Ed and David each caught five salmon, and Pam caught four.  On another day, Ed caught a 42-lb. halibut and earned entry into our halibut club.  One day, a large, old female bear with ivory claws and a large boar fished close to this group as the cameras snapped photos.  At one point in the afternoon, they had six bears fishing in front of them, and one young bear walked right up to them and fished beside them.
On September 10th, Ed was joined by Andy Erickson from Rhode Island and Tony and Karin Ross from Pennsylvania.  Andy has visited our lodge several times, and this was the second of hopefully many visits for Tony and Karin.  On their first day, this group watched two bears play in the water for twenty minutes, and then a young bear caught one salmon after another in front of them, took a bite out of each fish and then tossed it away.  On their hike back to the boat that day, they walked past two bears relaxing in the grass near the trail.  One bear had his feet raised in the air, and neither bear could be bothered to move as the humans walked past.  They saw 22 bears on a hike up a side stream, including six sets of sows and cubs, and on their final day of bear viewing, they sat on the riverbank and again watched a procession of bears fish, play, and interact.
We once again spent our summer in the wilderness of Kodiak Island with wonderful people, some we've known for many years and others we just met but hope to see again.  I can't imagine better jobs than the ones we have!  Thank you Mary for your fantastic meals and your sense of humor.  Thanks to our guests for another great summer in Uyak Bay!
Robin