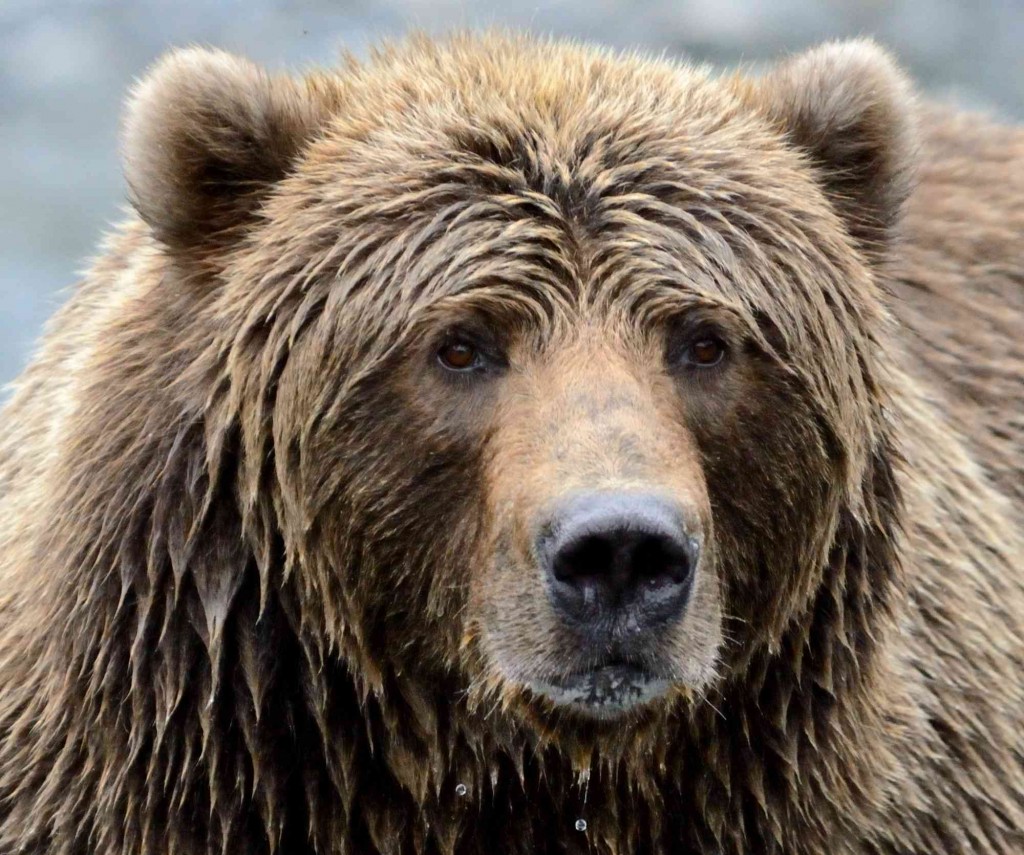 Tanner  laughed as he watched the sea otter struggle to subdue and eat the huge octopus; Vivian braced herself and gritted her teeth, determined to reel in her 127-lb. halibut;  Wayne tried to zoom out far enough to photograph the orcas that were diving beneath the boat; and Karin caught her breath as a sow with two small cubs walked out of the brush a few feet from where she sat.   Welcome to Munsey's Bear Camp!
We were thrilled to have Mary Schwarzhans cooking for us again this summer.  Not only do we look forward to her innovative meals, including homemade breads and soups, delicious desserts, and the best pizza I've ever tasted, but with her quick wit and sweet smile, Mary is  a joy to be around.  We also hired Mary's friend, Kenny Campbell, this summer, and Kenny made our lives easier by helping out with everything from landscaping to construction to fish processing.
Our season began July 12th with the arrival of Phillippa Redwood and Rosalind Currie, both from New Zealand.  Phil and Ros were with us for only a three-day stay.  On their first morning, we were cruising by harbor seals hauled out on a small island when we noticed three orcas up against the beach, apparently trying to snag a seal or two for a tasty snack. We kept our distance and watched the nature drama for several minutes until the orcas finally swam away in search of an easier meal.  Later that morning, we saw a bear walking the beach, and Ros and Phil saw several bears from a distance, including a sow with three cubs of the year.
On July 15th, we were happy to welcome back Michèle Rippmann from Switzerland, who with her husband, Chris, last visited us over twenty years ago.  Unfortunately, Chris was ill this summer and couldn't make the trip, but Michèle was accompanied by her two, beautiful daughters, Isabelle and Dominique.  This group sat on a beach and watched two young bears play and interact on the tide flats.  As the tide rose, the bears slowly moved closer to the beach until they were right in front of Michèle, Isabelle, Dominique, and Mike.  On another day, this group had two bears walk past them and got close to another as she ate a salmon.  On a beautiful cruise to the mouth of the bay, we saw sea otters and puffins and marveled at the huge Stellar sea lions that were hauled out on a rookery.
On July 20th, we welcomed back good friend Tom Bradley.  Tom was joined by his nephew, Jody Chaney, Jody's two sons, Tanner and Tucker, and Tom's grandson, Thomas Akins, all from Missouri.  On their first afternoon, the guys watched a sea otter trying to eat a large octopus that was wrapped around it.  They enjoyed a beautiful day of salmon fishing in Brown's Lagoon, and they all caught halibut, but Thomas' 32 pounder was the largest of the week.  Tom especially enjoyed the thrill of halibut fishing in shallow water.  One day, this group laughed at a friendly fox that seemed to want to play "fetch" with them, and awhile later, a bear walked up close to them before veering into the brush.
On July 25th, we greeted Jim Mount from California and Terry and Rhonda Barnes from North Carolina.  On their first morning, soon after leaving our mooring, we encountered a pod of twelve orcas.  It was a gorgeous, sunny day, and it was breathtaking to watch the sleek, black fins slice through the calm water.  On another day, Terry, Rhonda, and Mike clicked photos when a sow and cub walked up to them.  Later that day, they watched the interactions between a single bear and a sow with two yearlings.  When the single bear got too close to the family group, the sow chased him for a long distance while her cubs dutifully sat and waited for mom to return.  Meanwhile on the Mary Beth, Jim enjoyed the challenge of fighting and landing a thirty-pound halibut in twenty feet of water.
On August 3rd, we welcomed Paul and Bonnie Richert from Minnesota and Mark and Jeanine Bessen and Ed and Sue Furze, all from Australia.  This group was with us for only three days, but their trip was action-packed.  On their first day, they got more than they bargained for when they watched a bear catch a fish right in front of them and then casually grab a beaver and slowly kill it while the beaver thrashed and struggled to escape.  On their second  day,  Mark and Ed caught two halibut, while the rest of the group watched a bear walk past them and stand on his hind legs and then saw a sow with three newborn cubs.
On August 6th, we greeted friends Andy and Candice Vena from New Jersey, Mick and Jeff McHenry from Kansas, and Steve and Jeri  Mihelic from Nevada.  We had a great week and many laughs with this group of friends we've known for years.  Their main interest was fishing, and this was the beginning of a long stretch of excellent halibut fishing.  Everyone caught nice fish, and Andy caught two "club" halibut (40 lbs and over), and Jeff and Steve each caught one.  On a day of wildlife viewing, they watched a large male bear fish near them, and on a cruise to the mouth of the bay, this group watched a fin whale surface near the boat, and later that day, Mick and Jeff caught our first silver salmon of the summer.
On August 11th, we welcomed back Larry and Barbara Meckel from Colorado and their family, Barrett Toan and Polly Obrien from New Mexico and Bob and Vivian Toan from New York.  On their first day, Vivian fulfilled her dream to catch a big fish when she landed a 127-pound halibut!  Although that was the largest fish of the week (and the summer), Larry and Barbara also joined our halibut club when Larry caught a 77 pounder, and Barbara landed fish weighing 42 and 40 pounds.  This group watched a sow with two yearling cubs chase fish.  One cub caught a salmon, while mom picked up a dead fish and carried it into the grass to eat it.  She was well aware the humans were there, and both she and the cubs stood on their hind legs several times to watch them.  Toward the end of their stay, Mary surprised Larry and Barbara with a cake to celebrate their 50th wedding anniversary.
On August 16th, we greeted Wayne and Vicki Barnes, Mike Holt, Robert McMurray, and Rita Heuss, all from Tennessee.  On their first afternoon, we saw three orcas, one with a large octopus in its mouth.  The whales swam over to the Mary Beth and appeared to be playing with us as they repeatedly dove under the boat.  This group watched a bear chase fish, and they enjoyed a gorgeous day of salmon fishing at the mouth of the bay.  The sky was so clear that we could see a volcano smoking on the Alaska Peninsula.  We didn't doubt this group could fish when in one day, they caught five and released six beautiful halibut, including five "club" halibut!
Bob Aldrich and Beth Battey, both from Rhode Island, Shadd and Dawn McEwan from California, and Dennis and Nancy Ferraro from New York arrived on August 21st.  On a beautiful, sunny day, two young bears played and chased each other down the beach right past this group.  Later that day, they watched a sow with two cubs catch salmon.  On a day of halibut fishing, Dennis caught two nice halibut, and Bob caught a 64 pounder, and on another day, Shadd enjoyed the thrill of catching halibut in shallow water.  On a day at the mouth of the bay, Bob caught a silver salmon, and we enjoyed watching several whales, including a humpback and two fin whales that surfaced near us.
On August 26th, we were thrilled to welcome back Dan Robertson from Nevada and Gene Fanucchi, John Mendoza, Mike Saner, Gordy Sexton, and Howard Hancock, all from California.  As always, this group was focused on catching fish, and while the salmon fishing was not as good as usual this year, the halibut fishing was exceptional.  All of the guys caught nice halibut, including five "club" halibut, but Gene's 77 pounder took the prize for top fish and was one of two "club" halibut Gene caught this summer.  While I hate to say it went to his head, Gene now prefers to be called "The halibut king".  The guys wanted to honor Howard who  retired from PG&E this summer, so one evening, Mary surprised him with a retirement cake from his fishing buddies.
On September 5th, we were happy to welcome back Jerry Burblis from Alaska and Carl Erickson from Florida.  We also greeted Alan and Victoria Peacock from Massachusetts  and Simon and Ruth Ray from Scotland.  A young bear entertained this group each day they went bear viewing on the river.  She took a nap near them, paraded back and forth in front of them, and caught fish beside them.  One day, they watched a sow catch two salmon and carry one fish into the  brush with her cubs close behind her.  On another afternoon, a large male bear caught fish near them.  He walked to within 25 feet of them, let out a "woof", and then slowly continued down stream.  On a calm, rainy morning, Jerry and Carl enjoyed good halibut fishing, and Jerry's 80 pounder was the second-largest of the season.
On September 10th, we were excited to welcome back Tony and Karin Ross from Pennsylvania.  Tony and Karin were joined by Jimmy and Deborah Straughan from Texas and Ian Yates and Cheryl Scroope, both from Australia. On their first day, this group saw a sow and cub and a young male bear, but it was a cooperative female that kept them entertained for most of the afternoon, She walked up close to them, stuck her head under water and snorkeled for salmon, caught fish in front of them, and as they packed up their gear to leave for the day, she plopped down on a sandbar near them.  On September 12th, this group was hit by a storm with heavy rain and wind that lasted the rest of their stay.  The river was so swollen that it was too deep for the bears to fish, but nevertheless, they saw a sow with two yearling cubs and had a sow with two cubs of the year walk up to them.  Our last evening was the perfect end to our season, as we laughed while Tony entertained us with his uncanny imitations of humans and animals.
As always, our summer was amazing, and no two days were the same.  I will remember the laughter and smiles and the funny and sometimes serious conversations around the dinner table.  We thank Tanner, Vivian, Wayne, Karin, and all our guests for stepping into our world and sharing our adventures.
Robin