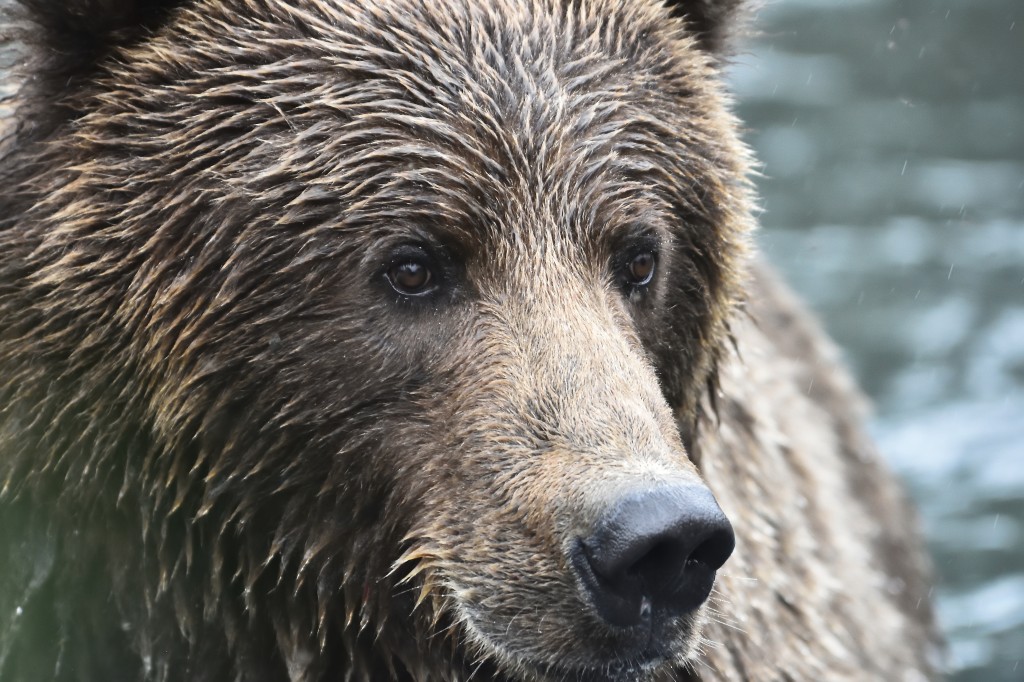 Each summer, nearly 50% of our guests are returnees, and some have been visiting our lodge for many years.  These folks become our friends, and after spending many hours together in the field and on the back deck of our boat, we know each other well.  This year it was with a heavy heart that we said goodbye to four of our guests.  Jim Clay only first visited our lodge last summer, but he and his buddies, including Tom Bradley, a long-time friend of ours, were scheduled to visit us from July 20th to the 25th.  When Jim passed away suddenly a few weeks before their planned trip, the rest of the group canceled their plans.  Andy Vena Sr. has been to our lodge many times with his son, Andy Jr., and their friends.  His son hoped to bring him back up here next summer, but Andy Sr. passed away after suffering a stroke this summer.  Jean Matusik and her husband, Ed, have been visiting our lodge since the 1980s, and I know how much they both enjoyed watching and photographing bears.  Jean passed away suddenly this summer just before her scheduled trip to see us, and Ed sent her ashes to us to scatter in the spot where she spent so many wonderful hours watching bears.  Gene and Diane Fantini and their friends have also made many trips to our lodge, and Diane and I frequently correspond via e-mail.  Sadly, Gene passed away in August after a difficult battle with cancer.  The loss of each of these friends felt like a blow, and we will never forget the great times we had with them.
I'll follow up that sad news with the happy news that Mary Schwarzhans returned this year once again to dazzle us with her amazing meals and wonderful personality.  Mary's friend, Katie Keaveny, assisted her this summer.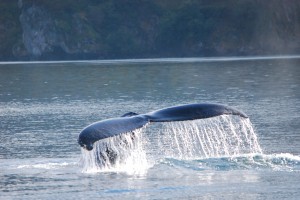 On July 10th, we were excited to welcome back Mary L., Mary T., Lida, Doug, and Katherine Hihn, all from South Carolina, and we enjoyed meeting their friend, Erik Beard, from Colorado.  The Hihns have visited our lodge many times over the years, and we were happy to begin our season in the company of friends.  On our first afternoon cruise, we saw a humpback whale, two fin whales, seals, sea otters, eagles, puffins, foxes, and deer.  On a day of bear viewing, this group enjoyed "family day" when they saw a mother bear (sow) with three newborn cubs, a sow with two two-year-old cubs, and two groups of a sow with three one-year-old cubs. The Hihns and Erik started off our summer of good halibut fishing when Erik caught a 65 pounder, and Mary L. caught a 55-pound halibut. 
Duane Goldman and his son Garret, from Indiana, arrived on July 15th.  These guys enjoyed a gorgeous, sunny day salmon fishing in Brown's Lagoon.  After a grilled-salmon lunch, they continued to fish and ended the day with nine salmon.  On July 17th,  Yariv and Ronit Gilboa from California joined the Goldmans.  On the Gilboas' first afternoon, they saw a sow with three cubs and a single bear. On another day, this group watched a bear catch a fish on the tidal flats and followed another bear as he walked down a small stream. They snapped photos of a baby eagle sitting in its nest and marveled at large rafts of sea otters and huge fin whales.
On July 25th, we greeted Bob, Sandy, and Susan Comstock and Eileen Birmingham, all from California, and Holly Adams and Claire Hesselin from New Zealand.  Holly was our guide on our New Zealand trip last winter, and Claire is also a guide for Active Adventures in New Zealand.  On their first afternoon, this group enjoyed watching two fin whales swim past our boat, and on a day of fishing, they kept 12 salmon and released 12 more.  We took a mid-day break in the fishing action to eat grilled salmon and sip Sauvignon Blanc from the Comstock Winery.  Thank you, Bob and Sandy!! Everyone in this group caught halibut, and Holly and Sandy joined our halibut club!  This group enjoyed some great bear viewing, but one of the highlights was when they watched three yearling cubs play while their mother caught salmon.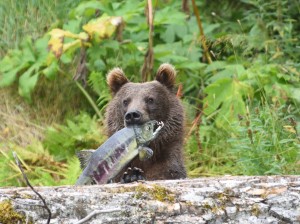 On August 6th, we greeted Bjorn and Ava Karlssen and Stephan and Ingrid Sigold, all from Sweden.  On the first afternoon, we saw a cow and calf killer whale soon after we left our mooring.  One afternoon, this group watched a bear catch and eat fish, and awhile later, a sow with two newborn cubs fished near them.  On another day, they watched a very cooperative bear fish on a river.  He walked over to the group, stood on his hind legs to look at them, and then continued to fish and perform for them.  One day, this group opted to spend the day on the boat, so we cruised to the mouth of the bay, where we saw Stellar sea lions, sea otters, puffins, and fin whales.  Then, to our delight, six Dall's porpoises swam in our bow wake for several minutes, darting in and out and over and under the wake.
On August 11th, we welcomed back our good friend Andy Erickson.  Andy was accompanied by his granddaughter, Christina Ulrich, and her boyfriend, Michael Acela, both from Pennsylvania. Joining Andy, Christina, and Michael were Jim and Mary Hill from Colorado.  This group watched a sow interact with her two newborn cubs and photographed another bear as it walked up a small stream.  They enjoyed two exciting days of halibut fishing.  Christina started things off by catching a halibut soon after we anchored, and later that day, Michael caught a 128 pounder, our largest of the summer.  The following afternoon belonged to Andy, though, when he caught and released a 40 pounder and kept a 77-lb. halibut. 
On August 16th, we were thrilled to welcome back Jerry Burblis from Alaska and Bill and Brian Micheli from Illinois, and we were pleased to meet Steve and Mark Stewart from Colorado.  On their first afternoon, we sat in the midst of approximately eight fin whales while they surfaced around us.  On another day, this group saw 20 bears, including a sow with three newborn cubs, and a sow with two large, two-year-old cubs.  They saw a bear sleeping on the trail, and when he heard them, he stood on his hind legs to get a closer look before wandering into the brush.  Bill caught the first silver salmon of the summer, and on an afternoon of halibut fishing, Jerry caught a 30 pounder, Mark caught a 70 pounder, and Bill landed a 50-lb. halibut.
On August 21st, we greeted Phillip and Gabriela Strub from Switzerland and Kevin and Christine McCullen from England.  On their first day of bear viewing, they photographed a sleepy bear and watched several bears fish near them.  The next day, a sow with two yearling cubs saw them, came over and sat on her haunches while she studied them, and then apparently after deciding the humans were no threat, she continued fishing.  Kevin videotaped an altercation between a mother bear and her cub. Mom caught a salmon, and when the cub tried to wrestle it away from her, she whacked him in the side of the head and growled at him.  In the end, though, the cub still managed to steal her fish.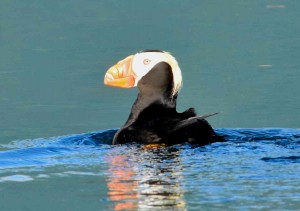 We welcomed back our fishing buddies on August 26th.  Dan Robertson from Nevada was joined by his friends, Gordy Sexton, Howard Hancock, Gene Fanucchi, John Mendoza, and Michael Saner, all from California.  Silver salmon were in short supply this year, but these guys enjoyed fantastic halibut fishing, and this was Gordy's year.  He caught three club halibut:  an 87 pounder, a 62 pounder, and a 42 pounder.  Plus, he caught the most silver salmon of the group.  Dan caught an 82-lb. halibut, Mike landed a 55 pounder, John caught a 48 pounder, and Gene caught and released a 40 pounder (always the sportsman!).  They caught all those fish and enjoyed the most gorgeous stretch of weather of the summer!
On September 5th, we were happy to welcome back Tony and Karin Ross from Pennsylvania and were pleased to have them with us for a ten-day stay.  Joining Karin and Tony were Bill and Sue Boon from Nevada and Nino and Celine Veronese from Switzerland.  This trip was Nino's 75th birthday gift from his daughter, Celine.  This group of great hikers was rewarded with excellent bear viewing. They watched sows with newborn cubs and sows with yearlings. Several bears fished next to them while they sat on a riverbank, and two young bears entertained them by climbing on a log and diving into the river.  One of the bears timed his dive perfectly and surfaced with a salmon in his mouth.  Another tolerant bear amused everyone with her technique of snorkeling for salmon.  On their last evening, we celebrated Nino's birthday with a delicious cake prepared by Mary and fantastic entertainment provided by Tony.
On September 15th, Tony and Karin were joined by Fred and Paula Hooper from Rhode Island and John and Leslie Murphy from Massachusetts.  This group braved wind and rain one day to experience great bear viewing.  Several bears fished close to them, and one was so comfortable with their presence she took a nap near them.  The sun shined the following day, and Tony and Karin enjoyed a beautiful afternoon halibut fishing, while the rest of the group walked up a side stream where they watched several sets of sows and cubs.  On the last full day of our summer season, this group had the best bear viewing of the summer.  They weren't sure how many bears they saw, but at one time, six bears fished close to them.  When I picked them up at the end of the day and asked how their day was, they said, "Incredible!"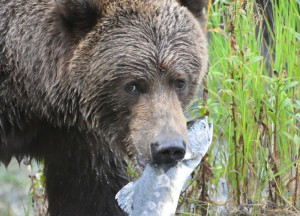 We had another wonderful summer here at Munsey's Bear Camp.  We endured a few rainy days, but overall, we had great weather.  Whales have become so commonplace the last several years that I forget to mention them, but we saw whales nearly every day this summer, and we saw hundreds of sea otters as we cruised around the bay.  I love watching the looks of joy on the faces of our guests when we cruise past a sleeping sea otter or see a pup sitting on its mother's stomach.
Mike and I want to express our condolences to the families and friends of Jim Clay, Andy Vena Sr., Jean Matusik, and Gene Fantini.  They will live in our hearts forever.
Thanks to Mary for her wonderful meals and Katie for her help.  Thanks to all of our guests for making our summer special.  If you would like to read my weekly blog on Kodiak wildlife and living in the wilderness on Kodiak Island, you can find it at http://robinbarefield.com/blog.  I post every Sunday and would love your input.
Robin