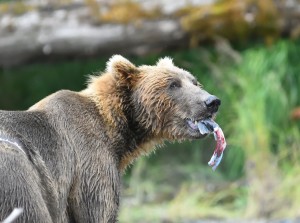 I believe nature keeps me sane and allows me to stay balanced, and this summer, I think it has helped me heal.
My summer did not begin well. I would even venture to say July 2017 was one of the worst months of my life. In early July, I began losing the use of my arms and legs and ended up in the hospital in Anchorage for a week. I was diagnosed with Guillain Barré Syndrome (GBS), a disease in which a person's immune system turns on the nervous system and begins stripping myelin from the nerve sheath. GBS can be quite dangerous if allowed to progress to the point where even the chest wall is paralyzed, and the patient must be placed on a ventilator to breathe. Luckily, I received treatment long before it got to that point, and the neurologist told me nearly every patient completely recovers from GBS. I was told it would take me a year to fully recover, and while I knew I would have a difficult summer with my slowed mobility, at least I would get better.
On the last day I was in the hospital, I called my brother, Russell, and his family in Kansas, and we had a nice conversation. Two hours later, my sister-in-law called me back to tell me after our phone conversation, Russell went out to mow the grass in 100-degree heat and dropped dead from a heart attack. My world crashed down around me. Russell and I were very close, and I felt as if I were in a daze the next day when the doctor released me from the hospital, and I made my way to the airport.
In Kodiak, a van whisked me to Andrew Airways, and soon, I was in a floatplane flying home. I felt numb and very tired as we skirted emerald mountains, plunging waterfalls, and deep valleys formed by glaciers and cut by rivers. I knew I would cherish my last conversation with my brother and would always be grateful that for whatever reason, I had placed the call to him only an hour before he died.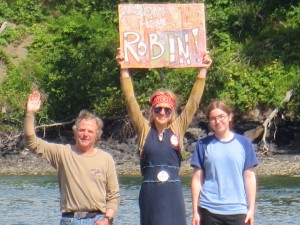 I hated arriving late for our summer trips. I had already missed the arrival of our wonderful cook and lodge organizer, Mary, and our new camp helper, Emily. Our first group of guests had come and gone, and I hadn't even been able to say hi to them. Our second group of guests had just arrived in camp that day, and I wasn't sure I could summon the energy to be a good hostess.
As the plane circled our lodge and came in low for a landing, I looked at our dock and nearly burst into tears. There stood Mike, Mary, and Emily, and Mary held a beautifully designed "Welcome Home" sign for me. With their help, I stepped off the plane and hugged each of them. Even Emily, who didn't yet know me, gave me a big hug. I've never been so happy to be home in my life.
Our group of six Australian guests met me at the dock. Two in the group were nurses, so they understood my condition, and they were all very kind and patient with me. Before I knew it, the Australians involved us all in an interactive murder game, lasting their entire stay. The game was great fun and had us each trusting no one else in camp. It did not surprise me when Mike won the game by murdering the most people. As if my summer hadn't already been bad enough, Mike even murdered me!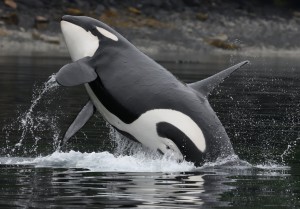 Not long after my return home, a pod of Orcas frolicked and fed near our lodge for an entire day, and Mike got some great photos.  An abundant, sustained pink salmon run this summer has provided food for everything from Orcas to bears to eagles. Our fishermen have also enjoyed catching salmon.
The most uplifting news for me this season was to learn that a sow we have watched for the past eight years showed up this summer with three newborn cubs. The sow was badly injured by another bear when she was young, and her rear end was flayed open. The injury was so bad, we didn't think she would survive. We were happy and surprised to see her the next summer, and while the scar has faded over the years, it is still obvious. She has always been a favorite bear for us and our guests because she seems to like to perform in front of us, often catching a fish and then turning toward the photographers, fish held high while the cameras whir. The walls in our dining room are covered with photos of bears, and many of the photos are of her. As the years passed, and she appeared by herself summer after summer, we assumed she was a barren sow and wondered if the horrific injury she received when she was little more than a cub had anything to do with her inability to reproduce. We couldn't have been more surprised when she showed up this summer with three tiny cubs trailing behind her. She appears to be a good mother, and all those years of fishing on her own have made her a proficient provider. She still doesn't seem afraid of us, but she keeps her distance from humans now because now she needs to worry about more than just herself.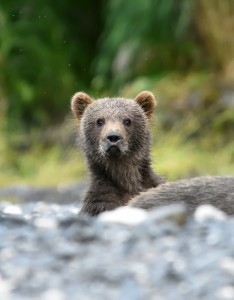 Life throws us curve balls sometimes, and I am very fortunate to have wonderful friends and family and a beautiful place to heal. Our guests have been great this summer, and I'm sure they have no idea how much their enthusiasm and laughter have meant to me. There is no place in the world I'd rather be than sitting on a boat in Uyak Bay on Kodiak Island. We hope you will join us soon for one of our adventures to see the "Real Alaska."
You can read more about life in the wilderness and the wildlife of Kodiak Island on my personal blog at: http://robinbarefield.com/blog .Please leave me a message there to say hi.
Robin